Wet Carpet Drying Services
When a broken pipe, leaking roof, or area-wide flooding turns your carpet and pad into a giant sponge, what do you do?
Water Damage and Flooding Emergency Service
At that point, you need a professional water restoration company on the scene as soon as possible to prevent further damage to your home or business. Powerful vacuum machines are required to remove as much water as possible before the wet carpet is removed. The thorough water extraction will protect other areas of the structure from the substantial run off from the wet carpet that is being removed. It will also reduce the weight of the carpet and make it more manageable. Leaving wet carpet in place can result in severe cases of mold and the growth of other dangerous microbes.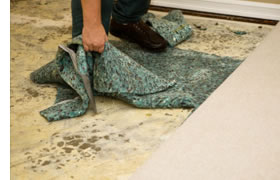 However, water extraction and removal of wet carpet is not enough to prevent further damage. All standing water must be removed, and commercial drying equipment installed and monitored during the drying process. If the entire structure (what you can see and what you cannot see) is not thoroughly dried, you could be dealing with the costly and invasive process of tearing out and rebuilding sections of the structure.
We have seen too many cases of costly repairs because structures were not properly dried.
That's why at DRYMORE we continuously monitor the drying process with instruments that tell us exactly how much moisture is still present even in hidden areas behind walls or built-ins. This allows us to adjust the drying equipment to ensure that the entire structure is thoroughly dried. Taking care of the wet carpet is the first step in thoroughly drying and protecting your home or office building.
---
For immediate water removal and help with your water or flooding damage, contact DRYMORE at 281-930-0100!
---
More air quality & water emergency services by DRYMORE include: